Publisher of New York Times and International Bestselling Author L. Ron Hubbard
The L. Ron Hubbard Series: The Complete Biographical Encyclopedia
The L. Ron Hubbard Series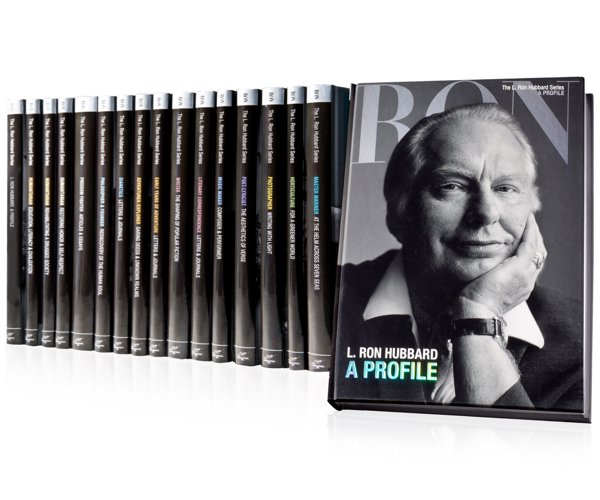 The L. Ron Hubbard Series: The Complete Biographical Encyclopedia
The L. Ron Hubbard Series
Introducing the L. Ron Hubbard Series, The Complete Biographical Encyclopedia: a highly personalized and deeply penetrating 16-volume set, chronicling the extraordinary life of L. Ron Hubbard.
Detailing Mr. Hubbard's monumental achievements along the myriad of avenues he walked, here is the definitive saga of a life like no other—and all as told through a multitude of archival documents and never previously seen images.
Come to know L. Ron Hubbard—the legend, the legacy, the man—with the most comprehensive account of his life ever assembled.
Read More
More About The L. Ron Hubbard Series: The Complete Biographical Encyclopedia
What's Inside
16 Volumes
3,653 Pages
1,039 Photographs of and by LRH—220 never before published
265 Personal Letters, Articles, Journal Entries and Essays
488 LRH Artifacts
241 Illustrations, Maps and Diagrams
75 LRH Poems and Songs
Complete Glossaries, including Hard-to-Find Terms and Phrases
Features
Never Before Seen Photographs
Personal Artifacts
His Personal Diaries and Journals
Articles and Essays
Ron's Letters
Indexes and Glossaries
The Epic Saga of a Life Like No Other
Told In Sixteen Magnificent Volumes:
Images of a Lifetime: A Photographic Biography
This stunning photographic chronology presents the intimate story of L. Ron Hubbard's life through meticulously restored images and detailed anecdotal captions. The newly updated and expanded Images of a Lifetime contains over 500 photographs—many of which are rare and never previously seen.
This item is FREE with purchase of The L. Ron Hubbard Series Biographical Encyclopedia set (a $125 value)